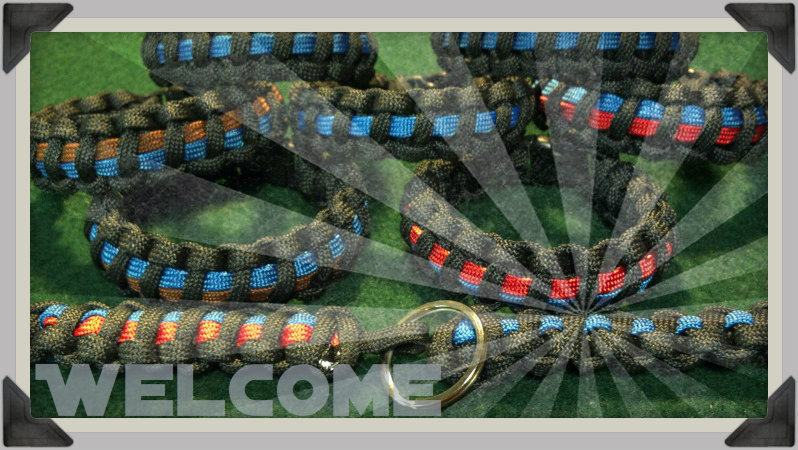 Here at Paracords and More we pride ourselves in producing the highest quality handcrafted paracord items. We use premium materials and strive for attention to detail with each and every piece we make.
Tough Gear for…Tough People
Proudly serving our customers since 2011
Here are a few testimonials from our Great Customers
Sent fast . Great seller . Will buy from again ! Better then I could ever imagine.
The bracelet is AWESOME, love the design with the Punisher 😉 I ordered 7 inch and it is just right. I have been wearing it for few days and as of now everything is holding up. I would have preferred just a tad bigger locking clip but it by NO means is an issue, just simple preference. Over all VERY happy with the bracelet ;-). Piotr K.

I'm a Corrections Officer and Volunteer Firefighter; I was looking for a bracelet that I would be proud to wear everyday and found it here. The bracelet I found didn't have the exact colors I was looking for but I loved the design so I messaged the owner and he was more then willing to custom make me this bracelet featuring the thin silver line and thin red line. I'm very pleased with my product; I also ordered a keychain to match. So many people have complimented this since I have had it. Will definitely be doing business here again. Lakin C.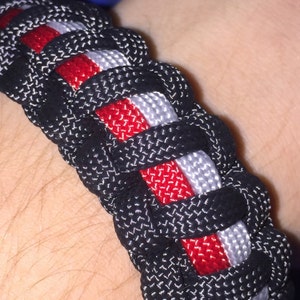 Love it! High quality and very cute. Auzzy
Fast shipping and great quality. Jackie B.
5 Stars. Madison C.
Awesome bracelet & excellent service! Lisa S.
Love Love Love these! Great to work with. Carla H.
Love it! Fits perfect and looks great. Love it! Jackie B. 
Should have ordered a little smaller but I didn't really know what size my wrist was…super cute! Joy E.
This was for a firefighter and the guys at his station really like this bracelet. Sizing was perfect! Katie B. Purchased multiple pieces.
Beautiful bracelet. Great way to show support for the ones you love or as a gift. Fits perfectly! Katie B. Purchased multiple pieces.
This was a gift. The lady loved it. I had to guess on the size and with a lot of help from Jeffrey, it fits perfect! Katie B. Purchased multiple pieces.
A beautiful bracelet. Great way to support our police and firemen! Fits perfect! Katie B. Purchased multiple pieces.
Great way to support the deputy in your life. I have had this for five days and I have had so many complements on it. Katie B. Purchased multiple pieces.
Great way to support the deputy in your life. I have had this for five days and I have had so many complements on it. Katie B.
Went with a smaller size this time and it fits perfectly, thanks! Lucas G.
Bracelet was well made! It was a gift! Sara C.
I got this order in a timely manner. It's very well made, and holds together very tightly, like it should. It was also made using all the correct colors …VERY NICE! : ) Eddie L.
Great quality! Wonderful communication! Fantastic seller!!!![Email sent after order received]. So Dylan just opened the leash and he LOVES IT!! He said "this guy does awesome work!" I'll be sure to send you a picture of arson once he goes on his first walk with his cool new leash! Thank you again! So much! I'll definitely be sending you more business!  Candice P. 2nd Order. Custom Request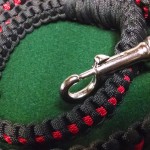 Well made, very sturdy, fits perfect! Matched description as well 🙂 thank you so much!! Candice P.
I ordered one for my husband and one for myself. The sizes of both were perfect and we received them super quick! I'm very pleased with this purchase and have recommended them to friends. Stacey S.
My husband works as a corrections officer. I wanted something I could wear to show support for him and his coworkers. I looked for quite a while before I found the silver line bracelet. It was one of the only things I could find that wasn't "girly", something I could wear with everything I own, no matter what I was doing during the day. I requested the blue line be added for our local police force, my husband's dream is to become a police officer. The bracelet is extremely comfortable and durable. My son has used it to hold himself up while climbing across me multiple times. It fits snug but not too snug. I love the look and feel of it. My husband is even thinking about getting one for himself. I highly recommend this shop!

Kallie T.
I got my order today! They look awesome. So proud to put them on my keys. My father is a cop and my husband is a fireman.

I'll be ordering from you again soon. I would love to get the thin blue line keychain for my mom and dad. My cousin is a deputy, so of course she needs one too. Thank you! Shannon R.
Thank you for the South West Asia Para-Bracelet! I found it to be well made and with a perfect fit.
I hope to do business again with you soon. I'll also let my friends know about your quality products.
I can not say enough positive things about this Bracelet. Not only does it look great and fit well but I was contacted by the maker numerous times to be sure that it was to my size and liking.The shipping took less than 4 days. To say that I am satisfied is an understatement. Thank you very much for a great hand made product. I haven't taken it off since it arrived and i do not intend to do so anytime soon! Thank you so much! Brett S.
Jeffrey made a custom order bracelet for me to wear to honor my husband, a deputy sheriff, and it was perfect. I will definitely order from him again. Janet B.
He's awesome!!! Don't look any further for bracelets. He has been so helpful with my gifts to my dz sisters!!! cant wait to give them to my girls on sat on the als walk..i wear mine everyday..thank u. I can't thank u enough for helping me with my gifts!!! Dina A.
Thanks for the great customer service. It fits perfectly. I also appreciate the matching key fob.
Shame it is too late to post a review [on Etsy]. 5 star service! Blake B.
Hi Jeffrey
I just wanted to thank you in person and tell you how much I love this bracelet. It is the prettiest one I own! You do very nice neat work and attention to detail. So I am happy with it and will probably end up choosing to wear it every day instead of any of my others. The colors in this bracelet are just beautiful and they go together so well. Good quality paracord. Very neat workmanship and well made! The cobra weave is my favorite and love the neon colors! Candy L.
Got it today! It's perfect. Thank you! Melissa H.
Hi Jeffrey, today I received the bracelet in good order. 'm Very happy with it and wear it as a firefighter with genuine pride. The keychain as gift is beautiful. My daughter Maud (10jr) just had to get it she found her house / bike key. So they think they can show that she is as proud as her father as I am myself in my profession. Thank you for this beautiful piece of craftsmanship. Warm greetings from the fire station Purmerend (now have a 24h service station until tomorrow 18h) Brandwacht 1st Class Edwin S. (Holland-The Netherlands)
A present for a friend. She loves it and it fits perfectly. J.R.
The colors in this bracelet are just beautiful and they go together so well. Good quality paracord. Very neat workmanship and well made! Cindy G.
My wife & I both love our Paracord Mummy key chains. Jeff is excellent to do business with. J.P.
I love this bracelet!! Thank you! Jennifer B.
I ordered the keychains as gifts for my coworkers for National Public Safety Telecommunicators Week. They look great and I received them in just 3 days. I'm very happy with my purchase!
[Update After order received]:They went over great! My coworkers are all men, so I was happy to find something they would like. All of them put the key chains on their keys right after receiving them. Thanks again! I'll probably be ordering more soon. Valerie R.
It's great. Company was very good about the sizing. I'm very happy with my purchase. Thanks Joseph S.
The dog collar is great, my son and daughter-in-law are very happy with it, thanks so much. Cindy B.
The item is amazing! My friend never takes it off 🙂 it came quick and communication was great with the seller! Also, they left a little personalized note with the shipment invoice so that was nice 🙂 Sylvia G.
This Thin Yellow Line paracord bracelet was a custom order made especially for me. The bracelet with the red line for fire dosent belong on my bracelet because we did not dispatch the fire department the Sheriffs Department did. When I told this to Jeffrey we came up with a custom design with a Thin Yellow Line between two Thin Blue Lines. It came today and it is beautiful! Jeffrey made me a custom, personal design just for me and I am so grateful to him. THIS WAS MY SECOND ORDER FROM JEFFREY AND IF I WANT MORE BRACELETS HE'S ALWAYS WHERE I WILL BUY FROM! Jeffreys bracelets are beautifully crafted and their appearance is great. The colors stand out very brightly and vividly, sure to catch the eye. Just as described and shown in the picture. Plus a hand written thank you note and special gift for my wife and I. Brett I. (Returning Customer)
This 911 Public Safety bracelet is awesome! The product quality is excellent. It is comfortable and made in bright colors which stand out and are very eye catching. I would recommend this seller with great confidence that you will undoubtedly love his work. Great delivery time and great packaging. Brett I.
Just as pictured. Great quick shipping! Love them. Renee' W.
Very friendly!! And came quickly!! Thank you, my fiance loves it!!  Kiara P.
Got here just a few minutes ago… I love it. Fit is perfect. Thank you Jeff 😉 Mark R.
Better than I expected by far.  S.
Love my paracord bracelet, very fast delivery, and what I liked most was the hand written at the bottom of my invoice. Chris K.
THANKS! These are great! I ordered another one for another dispatcher pal. I'm going to give one of your cards to my boss. They make great gifts for us in law enforcement. Abbey K.
Awesome work! Nadine D.
Fits perfectly and awesome quality! Thank you!! Sarah S.
Great service. Very fast. J.B
I would like to thank you and inform you that I already received the item. I appreciate your quick response for the above order.I really like the item very much and im looking forward to deal again with you in future.
I am very happy to deal with you , you are so wonderful and deserves all the respect and appreciation for your efforts that you have made and the faithfulness , and thank you again for what you've done work worthy of respect and appreciation. Khalid
Perfect gift for my husband! He loves the simplicity yet unique style! Thank you so much! Lindsay N.
Awesome craftsmanship! If you are a 911 dispatcher or call-taker or know someone who is, please order this bracelet! It would make an outstanding National Telecommunicator Week gift (2nd week in April). The way it is made is a great reminder of our daily strength in answering those calls and sending help. Deb. L.
tough and cute, you cant go wrong with paracord! Chris S.
Fast shipping! A handwritten note was included and a sample item for free! Thanks a bunch! Kelsey A.
AMAZING! My husband loved it! It arrived quickly and is truly of great quality! The communication from the seller was great. I'm overly pleased! Raquel.
Loved it! The bracelet was just like it shows in the picture! Would recommend and buy from seller again. Fast Shipping. Heather C.
The bracelet fit perfectly and got here SUPER fast. All my coworkers loved it and have been referred. Chelsey H.
Can't thank you enough Jeffrey! I really appreciate your going out of your way to ensure a proper fit and my total satisfaction by sending along another bracelet as well as the key ring as an unexpected and completely wonderful bonus. Many thanks! Michael D.
I love the paracord bracelet! It fits me perfectly and was shipped super fast! Great low price too! Leslie V.