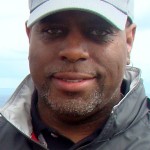 Do you remember the story of my wife with the birthday and the laser tag? Well we met a guy I must tell you about.
After we finished the bumper cars, we walked by the Dance, Dance, Revolution game. There is a guy about late 20's or early 30's dancing on the game. At first I'm thinking he is a little old for this type of game, but I decide to watch. Now when I say this guy has some fast feet…I mean fast feet. For those of you than have ever played or watched someone else play, you  know that while the player is stepping on the pad, if they are doing it correctly and keeping up with the game it will tell them that they are doing "Great" or "Outstanding" or some other very descriptive adjective. Well this guy had nothing but the most positive accolades on the screen, so saying he was doing well is an understatement. He was doing superb.
When he finished one of the stages, I jokingly said to him that I wouldn't tell people how good he was at this kids game. I meant it tongue in cheek, but I was surprised at his response. He said that he has been doing the game for a year and has lost 115 lbs. He further said that his doctor told him that if he didn't lose some weight he was going to die soon.
Needless to say, we watched him for a while longer. This whole scenario just reminded me of just how everyone has a story. Even the person that seems the most insignificant, or is doing the most mundane thing, has their story.
How does all this relate to paracord? This guy would have danced even better with one of our bracelets. 😉
Until next time, Constant Reader.