1. How do I get the correct measurement of my wrist? Please go to our measurements page, HERE.
2. When should I expect my order to be shipped. Each of our bracelets is hand woven at the time of the order. Please allow at least 4-5 business days for your order to ship. Expect to receive your order in 6-10 business days from the date of purchase. It may be faster than that, however we can't guarantee extreme speed by the shipping vendor.
3. Can I still pay for my order if I don't have a PayPal account.    Yes. When you go to checkout, you will be directed to the PayPal gateway. This is a secure server and your information is protected. Near the middle right of the page you will see a entry in blue titled, "Don't have a paypal account. If you click on this link it will take you directly to a page where you can enter your credit card or Bill Me Later information.
4. Does Paracords and More accept Credit Cards? Yes. We accept the following: Mastercard, Visa, Discover, American Express.
5. Does Paracords and More also accept Debit Cards? The simple answer is: YES.
6. Can you make custom orders? Yes. Send us an email and we'll see what we are able to do for you.
7. Can I "Like" you on Facebook? We would be most appreciative if you can send some "Like Love" our way. Click on the facebook link on the Home Page.
8. What shipping service does Paracords and More use to ship its items? Normally we ship our items via the United States Postal Service (USPS).
9. What is the cut-off date to receive my order for Christmas? As we use USPS, we are somewhat bound by their shipping dates. Since each of our items is handmade, our last date to place an order with an expectation of receiving it by Christmas is December 18th by 5:00pm EST. 
10. What if I have a bracelet that fits me well. Can I send that measurement? If you already have a paracord bracelet that fits you well we can take the measurement of the bracelet if it is laid our end to end including the buckle. Here is a picture of how to add the measurement: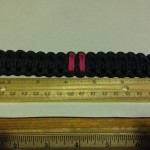 If you have some other type of bracelet you can use the measurement but make sure to include the details with your order to avoid any delays.