Last weekend the family and I attended the Motorcycle Swap Meet at Gibraltar Trade Center in Mt. Clemons. It was an interesting event and was made quite a bit easier since Amy and I had just done a biker swap meet a week before. I was really curious how this one would turn out on Black Friday weekend. For this event the entire family went along, all five (5) of us.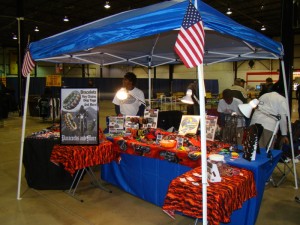 When we went to the swap meet on the 18th of November, one think became glaringly clear. We needed another way of taking our items, which aren't all that heavy or big, back and forth to our vehicle. Although it was probably only a football field from our vendor spot to our vehicle, I found it quite inconvenient carrying the six foot fold in half table that far. It was difficult, holding that, a couple folding chairs, a backpack and dragging a chest that although it did have a small set of wheels, was quite inadequate. If I didn't hold that bin at just the correct angle, it wouldn't utilize the wheels, it would just drag on the side of the case. I was on a mission.
When we got home from the Novi, MI event, I went searching on the net for a good folding cart that we could utilize. I found a pretty decent looking one on Amazon.com and placed the order. I also ordered a few swing arm lights and a power strip for this Gibraltar event since we would have access to electricity for the first time during an event.
Now back to the Gibraltar Swap Meet. In a nutshell, it was slow. Oh yeah, did I say slooooowww. I understand that not all events are going to be jam packed with people but even without a lot of things to compare this to, to me it felt sparse to say the least. We did make some sales and even a profit, but it was hard to stay busy and not get bored at times.
Next time, I'll continue with what happened, Constant Reader.